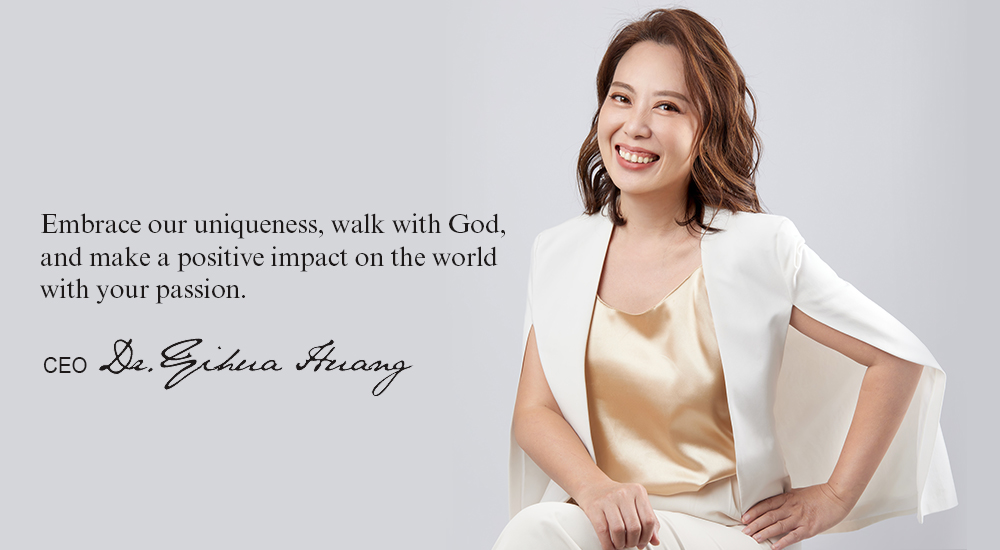 CEO-Dr.Yihua Huang
Company Name :EXE INTERNATIONAL CO.,LTD& EXE Yian Dental Clinic
Position In The Company :Founder and CEO
Favorite Quote : Embrace our uniqueness, walk with God, and make a positive impact on the world with your passion.
Dr. Yi Hua Huang's journey has been an inspiring one, from being a successful and respected dentist to becoming a toothbrush entrepreneur. She completed her dental education at Chung Shan Medical University in Taiwan in 2002, and later pursued further studies in orthodontics at New York University College of Dentistry in 2004. In 2006, Dr. Huang established EXE Yian Dental Clinic, which became the foundation for the development of EXE International Co., Ltd.
Dr. Huang's commitment to excellence and her dedication to providing the best possible patient experience have been the driving forces behind her success. Her innovative dental products have received numerous accolades, including the 21st Golden Peak Award of Outstanding Enterprise Initiators of the Year 2022 , the 21st Golden Peak Award of Outstanding Enterprises of the Year 2022 , both in R.O.C. Additionally, her efforts were recognized with the prestigious 2021 Golden Pin Design Award for the EXE Toothbrush,which features eco-friendly design elements such as a replaceable brush head and a compact size. Furthermore, the EXE Toothbrush received the 19th Chinese Quality Assurance Gold Award in 2021, and the company was recognized as the 2022 Most Influential Brand.
As the Chairman of the Board of Directors of EXE International Co., Ltd., Dr. Huang has led the company in developing innovative dental products that meet the evolving needs of consumers. The EXE Minibox Toothbrush, the company's flagship product, features a foldable design and replaceable brush head, making it an ideal choice for travelers and individuals on the go.
Dr. Huang is not only committed to providing the best oral care experience for patients and customers but also giving back to the community. She has been recognized for her philanthropic efforts, including her role as a Chinese Charity Ambassador and her work in supporting vulnerable populations during the COVID-19 pandemic. Dr. Huang believes that her success is not solely attributed to her own abilities but also to God.She has also established an online community for entrepreneurs, where she shares her business management methods and encourages new entrepreneurs to embrace their uniqueness and walk with God, providing them with support and guidance throughout their journey.Through her leadership and dedication, she has motivated many budding entrepreneurs to pursue their dreams with confidence and passion, while also finding fulfillment in their personal lives.
In recognition of her outstanding contributions to the entrepreneurial community, Dr. Huang was recently honored with the 2023 Taiwan-Japan Entrepreneur Excellence Award for Mentorship, presented by the Japan Entrepreneurship Society. This award celebrates Dr. Huang's dedication to entrepreneurship and innovation, as well as her successful experiences at EXE International Co., Ltd. and EXE Yian Dental Clinic.
Dr. Huang's journey began as a dentist and has since expanded to developing innovative toothbrushes and sharing her business management methods with other entrepreneurs. Her passion for celebrating individuality and empowering her customers to cherish their uniqueness while maintaining good oral hygiene has made EXE International Co., Ltd. a strong player in the oral care market.